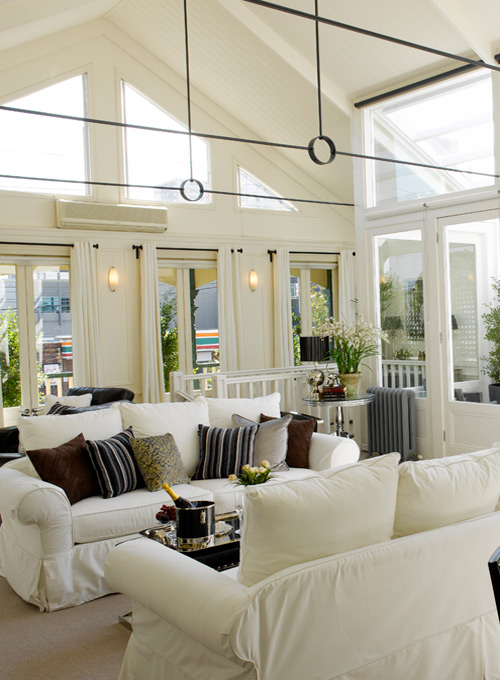 ABOUT ANDRE'S MEWS



The complex which we now call Andre's Mews has its roots in a property built around 1901 at 89 Church Street, Richmond.

The original property began its life as a traditional double fronted Edwardian house which was initially occupied by the family who built it as a home, complete with cobbled courtyard, stables and hayloft and later as a midwifery. At some stage in the mid 1900's the first floor of the stables were used for local dances with a 1 penny entrance fee!!

Andre and his wife Ellen purchased the property in 1972 as the family home and, over the following years, Andre made many alterations and additions to the property. The couple also built the shop on the side garden - now Andre's Mews Reception & Luxury Shop.

It was Andre's dream to further develop the property and to create an English Mews style residential complex on the property with all apartments facing a communal courtyard with a fountain in the centre. In 1996 the Richmond Council issued the permit for the first apartment to be built on top of what is now Andre's Mews Reception & Luxury Shop.

Tragically, Andre did not live long enough to see his dream realised - he died in 1997. His daughter, Yvonne, set about fulfilling her father's dream and after eight years the complex was completed. Although most of the complex is new, great pains were taken to follow Andre's example in keeping the new buildings sympathetic to the original buildings - though giving them a modern twist. Although the facade of Andre's Mews has followed the original, the internal design is not in the Edwardian style - with the exception of the original house (now two apartments) which still has original marble fireplaces, Victorian cornices, mouldings etc. When all of the building works were completed and the Mews-style setting was created, complete with central courtyard and fountain, the complex was named Andre's Mews - because that is what it is!!

In 2008 Yvonne made the decision to turn the apartments into Luxury Serviced Apartments. A keen traveller herself, Yvonne saw a huge gap in the market for the more discerning traveller who required both luxury and space in their accommodation. Generally speaking, when you are looking at the space offered by serviced apartments you have to sacrifice the luxury and comfort of a high-end hotel - but not at Andre's Mews! From one luxury serviced apartment in June 2008 (The Lempicka), Andre's Mews has grown to twelve luxury serviced apartments in June 2009.